This is the eighth installment of a series of 10 articles, in which I take a look back at some of the new games I've played and explored in the past year. I'm calling this category Unique Games, because they're somewhat hard to classify. Several of them could arguably fit in the forthcoming Family Games category (which is up next, so watch for it to appear early next week!). But I already have seven terrific games that made the cut for that category so instead I opted to make a new category of Unique Games. These games aren't necessarily innovative as such, but there is something about each of them that makes them stand out from the average family game, and belong in a league of their own. Have you learned any games this year that you'd classify as unique?

Travel Blog





There are times when modern gamers can start to feel a little jaded about themes in modern games. Another Mediterranean game about trading or shipping? Using a tired well worn theme is a sure way for a game designer to cause some eurogamers roll their eyes. Trust Vlaada Chvatil to rescue us from the tyranny of overused themes, and come up with something genuinely fresh. Meet his 2010 release Travel Blog, which has the privilege of having one of the most unique and original themes you'll ever see in a board game: writing a blog!

The game has players travelling the world, and earning money for writing a travel blog. Now that's 21st century stuff indeed! Travel Blog comes with two maps, one of the USA and one of Europe. Over the course of 7 rounds which correspond to the four seasons of the year, players must try to be the first to visit new and exciting places that they can write about on their blogs (and thus make money), while minimizing their travel costs (and thus save money). He who has the most money at the end wins. The mechanics of how this works are just as unique as the theme itself. With the map hidden from view, cards representing places on the map are revealed, and players must quickly place tokens to decide where they'll travel to. There's a reward for being first to place your pieces, because writers who are the first to get their story on their travel blog are obviously going to get the most interest. But you don't want to choose too rashly, otherwise you could find yourself travelling all over the map and spending too much money.

The end result is something that feels genuinely original, both in terms of the theme, and how the mechanics work and mesh with this theme. It also plays quickly, is accessible and attractive, and is somewhat educational while being fun at the same time. Travel Blog has a very unique feel, so there's little risk of this duplicating anything else in your current collection. If you want a game that could surprise you, and are willing to be challenged by a completely different game experience, this is your game.

Want to know more? See my full review: Ender's Comprehensive Pictorial Overview: Tired of old, well-worn themes? Vlaada Chvátil brings us something genuinely new!


Soccer Tactics World





Soccer Tactics World is one of the most fun soccer games that you'll find in the world of games today, and it deserves to be on this list for how strong the theme is, and how closely it feels like a game of real soccer. It first appeared on the scene around the time of the FIFA World Cup of Soccer in 2006, and has recently been released in a new and improved international edition.

Just like in soccer, you move your 11 players around the field, you pass, kick and capture the ball, and you shoot for goal. The gameplay is primarily driven by dice rolling, so there's definitely an element of luck involved, yet you don't have the feeling that the game is simply a luck fest decided by randomness, because you're the one deciding which player to move and where to, as well as deciding where to move the ball. The positional aspects of the game are key, and over time you'll learn ways to arrange your team on the field in order to set yourself up for creating chances and putting yourself into a scoring position - just like in real life! The result is that Soccer Tactics has the ebb and flow of an actual soccer game.

As such, this is a game with a huge appeal for soccer fans, because it's very well themed and intuitive to learn. If you're a fan of games but can't stand soccer, this is probably not a game for you. But if you're a fan of soccer, you're almost certain to love this game - whether you're a gamer or not! As long as you don't mind some dice rolling, and are looking for a game that is fun and thematic, Soccer Tactics does a great job of filling a niche in gaming that most sports fans can't get enough of! The only thing closer to the feel of soccer would be a dexterity game, or the beautiful game itself on a real field. Without the real thing, this is the next best option, and it's still a beautiful game. Very fun and good for families, and highly recommended for soccer fans!

Want to know more? See my full review: Ender's Comprehensive Pictorial Overview: A Fun Game about the Beautiful Game - and perfect timing for the 2011 FIFA Women's World Cup!


Pizza Theory





I was hooked on this game from the moment that I saw that Pizza Theory came in a pizza style box! It also comes with the distinction of having won the 2011 Ion Award for Best Strategy Game at SaltCON earlier this year.

In this family game for 3 players, you're putting toppings of your colour (red, white or green) on a pizza. The aim is to establish majorities in your colour when the pizza is "sliced", which happens with each player simultaneously selects a different line to slice. Each slice is then resolved separately, and the player with the most toppings in a slice gets to replace his opponents' toppings in that slice with his own. You win if you can successfully take advantage of these elements of majority area control and simultaneous selection to successfully get all 16 of your toppings on the pizza.

The components are pizza-tastic and very attractive. The gameplay can feel somewhat chaotic, because often it's all about trying to outguess what your opponents will do, but strictly speaking there are no random elements whatsoever. Just like pizza, it's not the kind of gaming food that will become your main diet or that you'll be playing for days on end. But that's fine becuase it delivers quicker than a pizza delivery driver, and games only last about 10 minutes. The rules are very straightforward, and when combined with attractive components, engaging and quick gameplay, this is an ideal game that's just right for a family menu. Pizza Theory is the kind of quick game that's like a good take-out meal - perhaps not healthy in large doses, but a tasty and zesty snack that's certainly desireable from time to time, and offers a very unique flavour!

Want to know more? See my full review: Ender's Comprehensive Pictorial Overview: Takeout food for gamers and families - I was hooked from the moment I saw it came in a pizza box!


My Little Pony Hide & Seek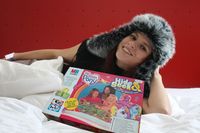 Easily the game of the year. Just last month My Little Pony Hide & Seek became BGG's #5 ranked game and #1 strategy game (albeit briefly) for good reason. It's more than just educational, because its immersive theme and remarkable balance have been demonstrated to improve thinking in other games. In some cases it has even cured analysis paralysis, and been associated with significant weight loss - read my full review for all the details.

My life as a gamer has felt more complete ever since I discovered this pony game earlier this year. Not only does it develop one's ability to memorize, it also trains concentration, broadens vocabulary, and aids speech fluency - skills which are incredibly useful when playing any game really. During particularly intense moments of analysis paralysis in other games, images of the ponies in My Little Pony Hide & Seek flash through my mind - and in this highly enlightened state I'm able to make clearer and quicker decisions under pressure. I heartily recommend this game for this powerful therapeutic effect alone.

There are few games that I can recommend as highly as this one. It became an instant 10 for me and many others. As was famously said: "Ask not what this game can do for you. Ask what you can do for this game!" If you're not convinced or want to know more about the back-story, check the official guide and the Drakkenstrike-style video trailer.

Want to know more? See my full review:
Ender's (non)Comprehensive (non)Pictorial Overview: The new #1 - Why. This. Is. The. Best. Game. Ever.
Join the discussion:
What is the best new unique game that you learned in the past year? And if you have played any of above mentioned games, what did you think of them?
Read the whole series:
My 2011 in Review: A look back at some new games