| | Information |
| --- | --- |
| | |
| --- | --- |
| Primary Name | |
| Alternate Names | |
| Website | https://boardgameimpact.com/ |
| RSS Feed URL | https://boardgameimpact.com/feed/podcast/ |
| Image URL | https://boardgameimpact.com/wp-content/uploads/powerpress/BGI_-_Podcast_Logo-179.jpg |
| Subscribe | iTunes | RSS |

Fans: 3

Become a Fan

Corrections
Clone
Customize View
RSS Feed

ObjectID: 48772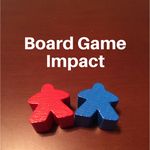 Description
We seek to provide thoughtful content to help advance the board game hobby by sharing the impact that games and related content may have for your gaming group. Though Board Game Impact we are currently producing a regular podcast that is scheduled to publish about 20 podcast episodes a year, have an instagram with several hundred followers, and have recently launched video content (both live and recorded) all of which are created all for your benefit.
A little about your hosts
Bruce Brown
United States
College Station
Texas


Bruce
is the founder and primary host of Board Game Impact. Bruce has been playing games since a very young age, but was introduced to the greater board game hobby in 2012. Throughout his life he has lived in New York, Ohio, California, and Texas and has traveled to all 7 continents. Gaming for Bruce usually comes though bi-weekly Meetups, playing games at home with his wife, having friends over, playing some solo games, and through attending gaming conventions.
Bruce currently works at a large research University in Texas where he teaches leadership courses, and is making progress towards a Ph. D. in Human Resource Development. For those unaware, Human Resource Development is about unlocking and unleashing the potential of individuals and organizations to impact the betterment of the person, organization, and more.
-----------------
Joshua Isringhausen
United States
Colorado Springs
Colorado


Josh
is the Co-Host of Board Game Impact. Josh first got into board gaming six years ago in graduate school. While doing so, he found a new home and passion for bringing friends and strangers to the table to experience this incredibly rewarding hobby.
What that means for you
the content being created breaks down experiences into the fundamentals, see the interactions the games bring out, and the experiences they create. I then take it to the next level by bringing in some scholarly research on related topics to the situations at hand and finally overlay that research on to the game itself by breaking down all the elements that lead to its whole. In addition, this strategically research based perspective enables me to also incorporate other related content by knowing how to dig into literature for your benefit.
I hope that Board Game Impact will equip you with what you may need so that you can make informed choices that make a positive difference in your life while also advancing the hobby in a positive direction.
How to connect with and support the show
Contact email: boardgameimpact@gmail.com
Home page: https://boardgameimpact.com
RSS Feed: http://boardgameimpact.com/feed/podcast/