Guild
Guild:
Category:
Created On:
2011-01-22 11:18:59
Members:
295
Location:

Addr1:
Addr2:
City:

Edinburgh

State/Province:
Country:

Scotland

Postal Code:

Manager:

Ian B

United Kingdom
Edinburgh
Scotland

The truth is a lemon meringue!

Collections:
Browse
An informal group intended for BGG members that play Board Games within the Edinburgh area.
Edinburgh Gamers Guild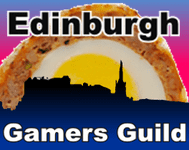 The Edinburgh Gamers Guild (EGG) is a place on Board Game Geek (BGG) which Edinburgh based board games players can use to arrange games, discuss games and generally interact with like minded gamers.
The EGG does not have a 'management team' as such so it thrives on individuals making contributions and taking an active role. Members are encouraged to use the forums for arranging games, making suggestions, passing on news (relevant to Edinburgh gaming) and general chat of interest to fellow members.
Please use common courtesy and common sense when participating in the guild. Remember this is an open forum viewable by anyone and so only post personal details after consideration of this!
We now have a Microbadge (thanks Goose!)

Get it here: http://www.boardgamegeek.com/microbadge/27429
How do I get involved ?
If you are someone who is looking to meet up to play board games in Edinburgh then please sign up to Board Game Geek (BGG) and then join this guild by clicking the link at the top right of this page. Also sign up to Meetup (see below) which is where a lot of the events are now being organised.
Subscribe to the Guild Forums
Once you have joined please 'subscribe' to this home page using the link also at the top right of the page. This will send you an email when new forum threads are started - note that you won't be notified of any replies unless you subscribe to the thread itself. If you want to easily be notified of every post and reply without needing to subscribe to individual threads then click 'Browse' in the forums header bar. On the next page 'subscribe' to each of the three types of post: General, News and Off Topic.
Also see this post for more detail and other BGG tips: How to use Board Game Geek efficiently - top tips
Introduce Yourself
Once you have joined please introduce yourself in this thread: Introductions or just post a new thread in the forums.
Regular Gaming Opportunities
For more details see the section indicated next to the day.
Monday - Meetup
Tuesday - FAQ
Wednesday - ad hoc
Thursday - Meetup
Friday - Meetup
Saturday - Meetup (occasionally)
Sunday - Meetup
Meetup
There is a Meetup group dedicated to Board Gaming. This group attracts a wide range of people from complete novices to seasoned gamers. If you join the group then you will get notified when the next Meetup happens, or keep an eye on the forums here as often someone will point out that a new Meetup has been scheduled.
http://www.meetup.com/Edinburgh-Gamers/
The Meetup group also has a linked Facebook group here: https://www.facebook.com/groups/EdinburghBoardGamers/
Join our Discord chat group
The group use a real-time chat application called 'Discord'. This is something like WhatsApp but has a lot of features to help organise conversations into separate topics. Most of the chat is text (typed) but it has Voice channels to allow multiple people to talk (verbally) to each other at the same time. Also it is usable via any web browser and using phone apps. Click this invite to join us: https://discord.gg/CYb5JC3
Games Hub
We are lucky to have the Edinburgh Games Hub http://www.gameshubedinburgh.com/ The Hub does food and proper coffee and have a games library of 300+ games. Here is a list of games the Hub owns (not up to date but probably quite close): http://www.boardgamegeek.com/collection/user/HubGames?own=1&subtype=boardgame&ff=1
Show your support for the Games Hub with the Microbadge I created:
Get it here: http://www.boardgamegeek.com/microbadge/33620
An informal group paradoxically known as 'Groupless Gamers' meets in The Hub, usually on Thursday, this is now being organised via Meetup (see above). Just go downstairs in the Hub and call out "who's Groupless?" or something similar! Goose gave us a little write up on this geeklist: http://boardgamegeek.com/geeklist/181829/item/3564256#item3564256
FAQ
FAQ is a student led Board Game Society currently meeting in The Southsider pub http://www.thesouthsiderpub.co.uk/ on Tuesdays from 6pm to around midnight. Although FAQ is run by students it has a large number of non students members. You can just turn up and play but if you become a regular you need to pay your annual subs which is about the price of a pint for students or two pints for others. They have a (closed membership) Facebook group here: http://www.facebook.com/groups/110669485661498
Other Resources
There is a great list of anything to do with Edinburgh gaming maintained by Bill Heron (admin of Orc Edinburgh, a role playing group) here: http://www.themandragora.com/edinburgh-gaming/
Lastly ...
If anyone has any questions or suggestions that cannot be put into the forums then please send me a GeekMail.
Ian B
United Kingdom
Edinburgh
Scotland

The truth is a lemon meringue!

Latest update March 2020