Article
Edit
|
History
|
Editors
Battleplan,No.6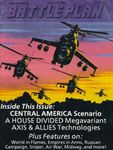 June-July 1988
Other articles

"Midway Random Events" - A classic with spice, George Sauer
[edit note: links to be inserted]
A HOUSE DIVIDED DESIGN NOTES
A HOUSE DIVIDED: Tournament Rules.
HASTINGS: 1066 The Battle of Senlac Hill.
THE WILDERNESS OF MIRRORS: A Campaign Level Scenario Using the Intervention Game and Optional Rules (CENTRAL AMERICA) (Victory Conditions Printed in Next Issue).
THAT DIRTY DOUBLE DEALING NUCLEAR WAR VARIANT THAT ONLY LEAVES YOU WITH HALF A CHANCE!": (A NUCLEAR WAR Blast, Part II.)
AXIS & ALLIES.
THE RUSSIAN CAMPAIGN: Rumania Uber Allies.
SNIPER: SPECIAL FORCES: Scenarios and Variants.
WORLD IN FLAMES: Options for France.
ARMOR AT KURSK: Armor on the Chir River.
AIR WAR: Once More!
EMPIRES IN ARMS: The Peninsula.
All game names are linked to the BGG index. Forum discussions about certain articles can also be linked here.
<<< To Battleplan,No.5 <<< | Back to Battleplan Index | >>> To Battleplan,No.7 >>>
[What Links Here]