Article
Edit
|
History
|
Editors
Battleplan,No.9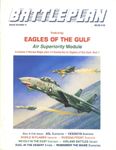 1989
Air Superiority "Airpower in the Middle East: Eagles of the Gulf!", J.D. Webster

Additional map "K" Airfield area
Additional map "L"
14 historical scenarios
Additional Aircraft Data card

"TU-16 Badger A/B/G"
"SD. 4050 Sud Vatour IIA, IIB, IIN"
"MiG-21 PFMA (Early) Fishbed-J"
"SU-7BMK Fitter-A"
"IAI Nesher"
"IL-28 Beagle"
"CM-170 Magister"
"BAC-167 Strikemaster"
All game names are linked to the BGG index. Forum discussions about certain articles can also be linked here.
<<< To Battleplan,No.8 <<< | Back to Battleplan Index |
[What Links Here]