Article
Edit
|
History
|
Editors
Cry Havoc series
Cry Havoc is a game by Gary Chalk and Tony Webster. Originaly published by Standard Games and Publications, Ltd. then Eurogames.
The game still has an active community, with new content and games, including the Norman Saga games professionally produced by Historic-One, available through Cry Havoc fan website ( http://www.cryhavocfan.org/indexeng.htm ).
Cry Havoc and Expansions
Standard Game Edition
Eurogames Edition
Fantasy Setting
Scenario Books
Historic One: The Norman Saga
Historic One: Accessories
Fan made expansions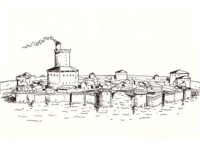 Here is a list of available expansions, notably the Medieval Harbour, recreated from archives provided by game designer Duccio Vitale.

Medieval Harbour was designed as an expansion
for Viking Raiders but never released. After contacting
Duccio Vitale the fan community managed to recreate
the original map.


Dragon Noir 3&4 (unpublished)
Last two fantasy expansions of Dragon Noir
(Dark Blades)


The Caravanserai
an expansion for Outremer


Nefs & Galleys
This medieval adaptation of Vikings
includes new boats (with sails) and scenarios


Montjoie
An updated version of the 1995 Claymore
expansion based on Robin Hood


Basileus
Scenarios and maps from 1996
Vae Victis with added morale
and command rules


Castell Arybrynwrthymôr
A Welsh castle map and rules


Horse Raiders
A campaign rule including tactical rules inspired by Outremer


Orleans 1429
Expansion set in the 15th century

[What Links Here]