Article
Edit
|
History
|
Editors
DFW Area Maps
DFW Area
The following map link to a Google Map has pinpoints for other things to see and do in the Downtown Dallas area as well as restaurants nearby.
DFW Hyatt Regency (BGG.Spring)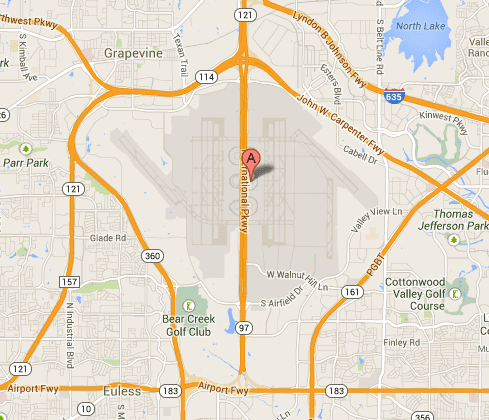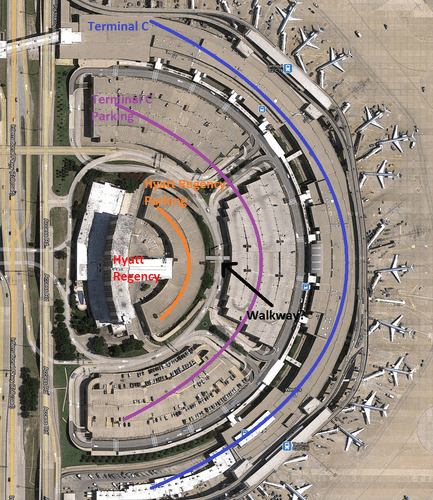 Hotel Address
Hyatt Regency DFW International Airport
2334 North International Parkway, P.O. Box 619014
DFW Airport, Texas, USA, 75261,
Tel: +1 972 453 1234 , Fax: +1 972 615 6826
If using a GPS device or website for directions, please do not search for the hotel's physical address. Please search DFW Airport and follow directions into DFW International Airport. Once you have entered the airport via the toll booths, please follow the signs to Hyatt Regency DFW, adjacent to Terminal C.
Directions to our Dallas Fort Worth airport hotel from DFW Terminals:
Hyatt Regency DFW offers Courtesy Van Service: Guests to contact the hotel via courtesy phone for pick-ups 24 hours a day. The vans are blue with Hyatt in white letters and accessible on the terminal lower level.

Directions to our Dallas Ft Worth airport hotel from DFW Metroplex:
Follow signs to DFW Airport, enter through the Toll Plaza to International Parkway, exit Terminal C, Hyatt Regency Hotel. The hotel entrance is on the right, directly across from Terminal C, Gates 26-39.
Grapevine Shuttle Route
If you feel the need to see sunlight and a different set of 4 walls, we have contracted with the Grapevine Convention and Visitors Bureau to use their very effective and helpful Grapevine Shuttle. Courtesy of Rio Grande Games - you may ride by simply showing your BoardGameGeek wristband to the Grapevine Visitor Shuttle Drivers.
For route information, etc. please check out their site: Grapevine Shuttle. The Yellow Route has pick-up and drop-off times at the Hyatt Regency DFW.
Please be mindful of the last pick-up time or you might be calling a cab to get back to the hotel.
[What Links Here]