Article
Edit
|
History
|
Editors
International Games Series
1. What is IGS?
International Games Series (IGS) is a series of international wargames, mainly by Japanese game designers, that are being developed and published by Multi-Man Publishing, and coordinated by Adam Starkweather. Artists for the series include Nicolás Eskubi, Mark Mahaffey, and Knut Grünitz.
This wiki entry describes games published under the IGS label.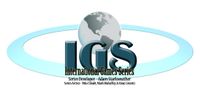 Official IGS Logo
Geeklist:

---
2. Overview of Existing IGS Games
The following titles have been published as stand-alone games in the IGS product line:
MMP's in-house magazines, Operations (Special Issue) then Special Ops, has also published the following complete IGS games:
---
3. Released Games
The following games have been released as part of the IGS product line, and are listed according to the order of release.
3. IGS Games Available For Preorder
The following games are now available for preorder. Publication dates for each game will depend on the interest indicated by customer orders. Direct links are provided to the preorder webpage for each game.
Important note: Pre-publication information, artwork, and details may change as the games continue to be playtested and developed.
The Setting Sun
BGG Game Page: The Setting Sun
Players: 2
Length: 4-5 hours
Complexity: Low-Medium (estimated 12-page rulebook)
Description
The Setting Sun is an area-movement game covering the great battle for the Philippines in 1944 and 1945. From the Kamikaze attacks to the great sea battle of Leyte Gulf, the entire campaign is presented. Players will be in the shoes of the two of the greatest commanders of World War Two: Douglas MacArthur and Tomoyuki Yamashita as they duel over the fate of the Philippines. You choose where to invade as the Americans and how to defend and defeat the US invasion as the Japanese. Using a system that has evolved from the popular Storm Over Stalingrad game, Tetsuya Nakamura has created a unique system to go with this unique campaign.
Images

| | | |
| --- | --- | --- |
| IGS Box Cover | IGS Map (Draft) | IGS Sample Cards |
Warriors of Japan
Description
Long considered one of the greatest games to ever be published in Japan, Warriors of Japan will feature much of the same system as we have seen in Warriors of God: The Wars of England & France, 1135-1453. The game takes place during the Nanboku-cho period (1336-1392) - one of the most dynamic and important periods in Japanese history.
Players familiar with Warriors of God: The Wars of England & France, 1135-1453 will find many similarities, however Warriors of Japan covers only 4 years and the system has been changed to cover this unique period. Leaders no longer die from old age but can switch sides unexpectedly during a combat. Movement and combat rules have been updated, and a random game start generator will keep each game fresh and interesting. Three scenarios are planned.
Origin: Taiheiki.
Images

| | |
| --- | --- |
| IGS Box Cover | IGS Map (Draft) |
Last Stand - The Battle for Moscow 1941-42
BGG Game Page: N/A
Players: 2
Length: 3-10 hours (depending on scenario)
Complexity: Medium (estimated 32-page rulebook)
Description
Masahiro Yamazaki's tour de force on Operation Typhoon that covers October through January at the gates of Moscow. Relatively fast and playable, Last Stand features three scenarios of different length and scale to give players options based on the time they have available.
Based on Last Stand: The Battle for Moscow 1941-42, published by Six Angles.
---
4. Awards and Recognition
Games from Multiman Publishing's IGS series have received the following awards:
---
5. Rumored Games
The following games have been mentioned or rumored as possible future additions to the IGS lineup. Sources include CSW forums, BGG forums and GeekLists, as well as unofficial word of mouth. All information provided below should be considered unconfirmed unless the game actually appears on the MMP pre-order list.
Pacific Campaign - Mark Herman's remake of his classic Pacific War. Using a lot of the concepts from the older Victory Games' game and adding in a few decades of play experience of the original game, as well as adding in some of the aspects of his newer game Empire of the Sun, Mark is hoping to give you the ultimate in Pacific Theatre games.
Romance of Three Kingdoms - An original design by Tetsuya Nakamura based on the Three Kindoms period of ancient China. Roughly 6 pages of rules detailing area-movement, basic combat, and card usage. Plays in under 3 hours, and is expected to be the easiest title in the IGS lineup.
Yankee Thunder Rebel Lightning - Strategic American Civil War game with some translation and artwork already in progress. Origin: Yankee Thunder, Rebel Lightning.
---
6. Cancelled Games
The following games were available for preorder as IGS titles at one point on Multi-Man Publishing's website, but were later removed. Reasons for not publishing the games vary.

Players: 1-2
Length: 4-12 hours, depending on scenario
Complexity: Medium
Website (Archive): http://www.multimanpublishing.com/tabid/58/CategoryID/9/ProductID/95/Default.aspx
Description
David Gómez Relloso's Card Driven Game on the Spanish Civil War (1936-1939) at a strategic-operational level. Rules are based on the popular Paths of Glory system, but tailored to fit this popular topic. Each player leads one side (Nationalist or Republican), and manages all the challenges that the actual combatants faced: mobilization, recruitment, movement and the combat of a nation at war with itself - and the political stage as well.
For the first time, this epic struggle will be designed by Spaniards for a world wide audience. Using primary sources and first hand accounts, this struggle will be represented in a light that is impossible to anyone that isn't Spanish and knows first hand what this conflict did to a country.
---
[What Links Here]