Article
Edit
|
History
|
Editors
More About Subscriptions
Subscriptions allow you to easily follow discussions, people and games that you are interested in and ensure that you don't miss anything posted about games or items that you care about.
Every forum thread, every geeklist, every geeklist item - even every registered user account - has a subscription link that looks like this



which you can click to subscribe. You'll know it was successful as the link will change to read unsubscribe.

If you want to subscribe to a whole section of the forums, then going to the forums page from the main menu bar gives you the option of subscribing at that level.

You can subscribe to items in the database, which notifies you whenever anything related to those games occurs - when someone posts a thread in a related rules forum, when someone links that item in a blog post or geeklist item, when someone posts a review or session report of that game, or when someone uploads a file related to it.

First, locate the game or item in the database. When you are looking at the game entry, on one side of the information entry is section that includes a subscribe link.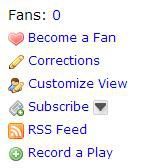 Click subscribe. You can subscribe to items at any level of the database and automatically be subscribed to linked items.
If you are interested only in Player's Handbook commentary, you can subscribe at the item level. If you want anything and everything related to D&D v3.5 you can subscribe at the RPG level, which will then include linked RPG Items. Interested in a particular mechanic? Subscribe to that mechanic and see all related discussion.
Read Subscriptions
When you log into RPG Geek, the top of the screen (above the menu bar) will show you if you have any new subscriptions to read and gives you a shortcut to read your next subscription item.
Clicking on the subscription link takes you to a page where you can view all your subscriptions, sorted by type (i.e. thread, image, file, geeklist, blog post, video) and arranged by time.
Manage Subscriptions
To manage your subscriptions, go to http://www.rpggeek.com/subscriptions

Here you'll find all of your subscriptions listed so you can review them, and under Preferences you'll find options for setting how you want to be notified, and customizing what information you are notified about. For example, you can specify that when you subscribe to a database item, you are notified about threads and files but not about videos or items for sale.
Return to the User Guide
[What Links Here]