Article
Edit
|
History
|
Editors
One Thing Remove Ads
The site gains revenue from advertisers that enable its continued existence; however it also understands that some users can find ads distracting and would like to hide them. AdBlock is an option that is available for financial supporters of the site.
On your profile, you'll see a section about AdBlock under the title RPGGeek Preferences.
Choosing Renew with cash takes you to a form where you can give financial support to the site. That money will be credited to you as Geekgold and will automatically extend your AdBlock time.
Once you've paid for AdBlock, you need to configure it to tell it which ads you wish to block and which you don't.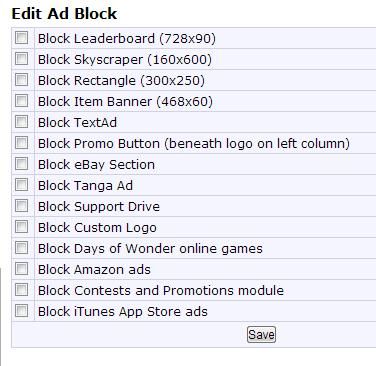 After making your selection, hit Save to save your AdBlock preferences.
Return to the User Guide
[What Links Here]