Article
Edit
|
History
|
Editors
Ravensburger Casino Series
...or in German "Casino Serie"
This series of 13 games was put on the market in the early 70's by Ravensburger. They were produced to look like books. All 13 can be lined up perfectly on a bookshelf in an upright position as can be seen in the picture below.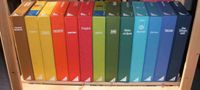 Each box is covered in linen and has a removable dust-cover. Because of the upright storing position, the content has to fit tightly into the box. This requirement resulted in the production of higher quality components for most of these games, both in choice of material as in design.
The 13 games in question, their designers and the corresponding BGG ratings (Oct.2006) are...
The best of the bunch, according to BGG members as of October 2006, appears to be Corona with a 6.7 rating. You can find all 13 games ordered by average rating, including photos of their boxes, in the geeklist Ravensburger Casino Series.
[What Links Here]