Article
Edit
|
History
|
Editors
Tactical Wargamers Journal
Website: http://tacticalwargamer.com/index.htm
Tactical Wargamer's Journal (ISSN 1918-9729), published on a non-regular schedule, covers topics of interest on all aspects of the world of commercial tactical wargaming, with its focus set on warfare at the man-to-man, squad and platoon level in the 20th Century and contemporary era. Tactical Wargamer's Journal (TWJ) places emphasis on both military history and the history of tactical level gaming itself.
Issue #1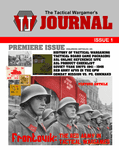 The premiere issue includes articles on the history of tactical wargaming, board wargaming packaging/box art, ASL components described at the Desperation Morale website with background on the site, the Red Army in World War II and its depiction in games, Soviet tanks in miniature, board and PC games, Soviet tank unit history and organization, and a comparison of CMBB and PC:K. A 2014 supplement adds a second feature on the Infantry Regiment "Grossdeutschland" as well as a custom made ASL scenario with detailed playtest report. Issue 1 is now available in both print and e-copy format. Owners of the original print issue may obtain just the supplement in print form.
Online description & order page
BGG page for Kruglowka Railway scenario
Description by author: http://www.boardgamegeek.com/article/4113543#4113543
Issue #2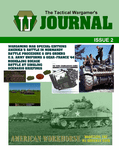 Issue 2 is intended as a "gamer's guide" to the U.S. Army in the Battle of Normandy (6 June 1944 to July 25 1944) with a comprehensive history of the campaign (including 70+ full colour maps) and a survey of tactical level PC and board game treatments of the subject. Other articles cover subjects such as scenario briefings, military operation orders and battle procedure and their relationship to wargaming, a detailed article on the Sherman tank and its depiction in games, a study of the Battle of Singling, and more.
Issue #3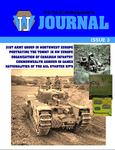 Issue 3 is intended as a guide for gamers to understanding the role of the British and Commonwealth forces in Northwest Europe during 1944-45. The issue features a high-level campaign overview illustrated with full colour maps, a complete breakdown of all divisions and independent brigades of the 21st Army Group, a study of the Canadian infantry battalion organization, an analysis of how British soldiers are portrayed in wargames, a listing of all AFVS used by 21st Army Group with types, variants, and roles explained. Also an article on nationalities in the ASLSK with a scenario set during Operation CHARNWOOD. The issue should appeal to fans of Combat Mission, ASL, Flames of War, or any tactical game system who struggles in differentiating between the multiple types of British tanks and AFVs, wants to put the smaller skirmishes into the larger context of the battles and campaigns that shaped the war in Europe, or who wants to know more about the divisions and brigades that made up the 21st Army Group.
BGG page for Sweeping the Doorstep scenario
---
All products: http://www.lulu.com/spotlight/madorosh
Main Content Index | Game Series Index | Game Magazines Index
[What Links Here]