Article
Edit
|
History
|
Editors
VGG Game Collection
VGG allows every registered member of the site to maintain a personal record of their game collection.
Managing Your Game Collection
Your video game collection can become a key part of your profile. It will allow you to track the games you own, previously owned, pre-ordered, want to buy, want to play, or are looking to trade. Adding public and private notes on each item is also an option.
View Your Collection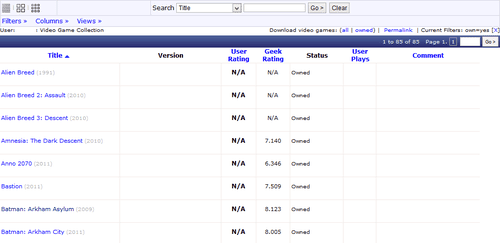 You can access your entire collection by clicking the 'Collection' link found under the "My Geek" tab of the NavBar. This will bring you to your collection page (pictured below). From here you can also view all the items on a single page or multiple pages if your collection is large enough and view or modify their status, rating, and add public comments. To remove an item from your collection, click on the red "X" in the upper right corner of the module.
The light blue bar that runs along the top allows you to modify how you view your collection and search it.

Key features:
View your collection: List, Galleries, or Slideshow
Add a Game: This will allow you to quickly add a game item to your collection.
Search Bar: This will allow you to search your collection.
Filters, Columns, and Views: These drop-down menus will enable you to customize how and what information is displayed when viewing your collection.
Add a Game to Your Collection
You can add a game to your collection in the aforementioned way or directly from the game page. All item entries for games or hardware have a 'User Information' section at the bottom of the page. From here you can choose to add a copy to your collection, to record personal information about the item, or to record a play.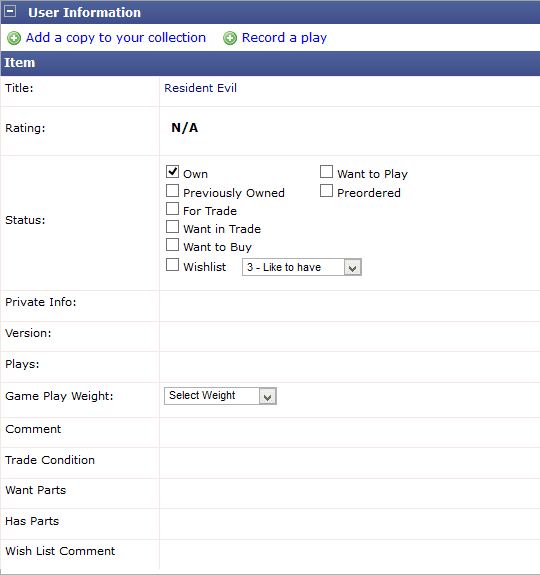 Add a Game to Your Collection From a Game Page
From here you can do the following:
Add a Copy to Your Collection: Add the game to your collection.
Record a Play: Enter a play session.
Rating: Items can be assigned a rating from 1 (bad) to 10 (good). You are encouraged to use your own personal thoughts about a game to rate it.
Status: 'Add an Item' automatically selects the "Own" box for an item. You can unselect this and choose preordered, previously owned, or want to play.
Private Info: This is a place for personal notes about the item which only you can see.
Version: This field allows you to select what release you own.
Plays: This is to record a play. Different users have different reasons for tracking plays and varying definitions of what counts as a 'play session'.
Game Play Weight: This is for you to determine how complex and difficult a game is to learn and play.
Comment: This is a public comment and can be used to provide a brief review or some other note.
Trade Condition: A place to provide public notes on items you have for trade or want in trade.
Wishlist Comment: This is a public comment that will be visible to users browsing your wishlist.
Geek Rating and Game Ranking
When a user rates a game in their collection it is called a "Geek Rating". The ratings entered by users on a item will then be averaged out and display in stars on a games Header Module. A "Game Ranking" is only applied to items when they have received a least a set minimum number of ratings by users (Geek Ratings). Ranked games are then sorted according to their Geek Rating. When browsing games, they will by default be listed according to the game ranking, though you may choose to sort them by any of the displayed fields.
It should be noted that there is no official or set algorithm in place by which users are expected to follow. Everyone can assign whatever meaning they want to the numbers on the 1 - 10 scale. This of course will lead to a lot of variance between users. However, there is a filter in place that will ignore ratings from users who attempt to play the system and create a higher or lower rating for the game.
Suggested Rating guidelines:
10 - Outstanding, masterful and an all-time personal favorite.
9 - Excellent, always a pleasure to play. Shines under most circumstances.
8 - Very good, a memorable and entertaining experience.
7 - Good, competent and likely to recommend.
6 - Above average, some fun or challenge. Enjoyable in the right circumstances.
5 - Average, what you were expecting or just indifferent. May be willing to play.
4 - Below average, will likely be forgotten. Will need to be persuaded to play.
3 - Poor, not enjoyable or engaging.
2 - Very poor, lackluster and unremarkable. Will strongly resist playing.
1 - Horrible, a black Hole of Fun. Definitely won't play again.
[What Links Here]