Article
Edit
|
History
|
Editors
VGG User Guide: VGG Bazaar
What Is It?
The Bazaar is a collection of tools that enable users to buy, sell, trade, or auction games in their collections. All of the following features can be found under the Bazaar tab in the NavBar.
If there is a dispute or misunderstanding with another user, see the Resolution Guide.
Trades
Looking to swap something unwanted for something on your wishlist? The trade page will have a bar on the top with several links. manager allows you to arrange trades with other users.

Trade Manager: This will let you check the trade status.
Propose A Trade: Send an offer to another user. You can select items from their and your "For Trade" lists, view their feedback, set a deadline for the trade to be accepted, and provide a message to the user.
View Your Trades: Displays your trading history.
Recent Trades: Shows the newest trades made by users.
Find Trades: This allows you to search for trades.
Trade Dispute Resolution: Think that you may have become the victim of a bad trader, seller, or buyer? Use this.
The 'Direct Matches' link will analyze items you have marked "Want in Trade" along with items you have marked "For Trade", and compare them with other users, displaying any matches. The 'Custom Search' link allows you to specify specific items from your "Want in Trade" and "For Trade" lists, along with specific locations for other users.
GeekMarket
The Marketplace (GeekMarket) allows you to buy and sell items with other users. The items available vary from time to time. The Geek Store uses your user name and a separate account system.
Prior to participating in purchasing or selling an item, you should read the Buyer's Guide and Seller's Guide.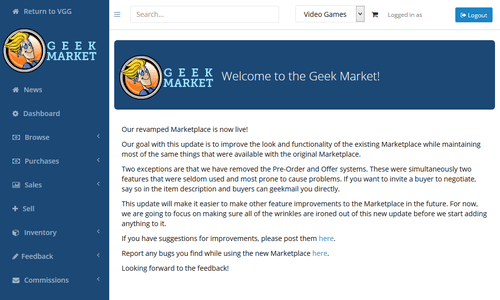 Geekbay/eBay
Geekbay provides a place for users to bring ebay auctions to the attention of other users on the site. Items can be added to Geekbay by going to the related game's page and then going down to the Bazaar Modules. Then click the "Add" link.
Items added to Geekbay appear on the item's page, or can be browsed via the Geekbay links under the Bazaar menu. These links sort auctions by Ending time, most recently added, or by "hot".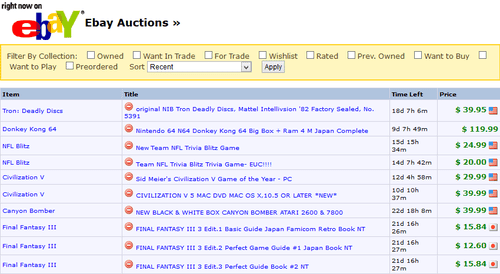 [What Links Here]