Article
Edit
|
History
|
Editors
Wargame design
Official OSG magazine.
From Vol II, nr 11-12 to the newest issue available at http://www.napoleongames.com/wargame-design
Vol I
Vol II
Nr. 9 (devoted to Four Lost Battles):

A Card Assisted Game
An Absolutely Believable Narrative
Cavalry Charge on the Field of Battle
To the Gates of Berlin
Chancing the Katzbach
Bombardment
Set-up Displays for the 4 Battles (color insert)
Designer's Notes on Combat
Napoleon's Mobile Striking Force
Under the Tide: The Germans in 1813
A Policy that Began to Seem Incomprehensible
Recruitment of the Grande Armée
Nr. 10 (devoted to the 1813 Campaign in Germany):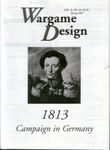 Napoleon at the Crossroads strategy article by Mark Owens
The Sun of Austerlitz strategy article by Martin Fuica
4LB Katzbach PM Scenario
4LB Questions
4LB Retreat Before Combat optional rule
NaC Update
NaC Counter Design
What is Scale-appropriate?
Napoleon At Bay Solitaire by Mark Herman
Nr. 11:

1807 - Designing the Campaign in Poland Advances in the Campaigns of Napoleon: designing "The Habit of Victory."
Habit of Victory Update
Forms of Maneuver from FM 100-5
Playtest Report: Strategic Choices by Craig Ambler
Making Life Difficult for Napoleon: 3 Habit of Victory AARs by Mark Herman
A Friedland Campaign by Joel Toppen
Winter in Poland: Half the Grand Campaign by Barrie Pollock
Nr. 12:

Intelligent Design and Game Theory
Briefing items on Design Theory and Work in Progress
Salad Days at SPI by Lenny Glynn
Rules Survey for the Campaigns of Napoleon by Dick Vohlers
The Role of the Idea in Game Design by Michael Thompson
Force Strength at the Battle of Leipzig by Kevin Zucker
Afterword: 1809 and 2009 by Kevin Zucker
Vol. III
http://napoleongames.com/wargame-design-magazine.html
Nr. 1/2 Double issue
Nr. 1:

SPI: Fertile Ground for Future Development by Kevin Zucker
What We Learned from Redmond: Wargame Graphics by Zucker and David Demko
Design Analysis: Combat in the Library of Napoleonic Battles
Tour Report: The German Campaigns, 2011.
Nr. 2:

The Information War: Getting the Most from your Cossacks by Christopher Moeller
Why I Love OSG's The Coming Storm by Mike Willner
Myths of Wargaming by John Theissen
Napoleon at the Crossroadds Spring Campaign by John Careklas
OSG's Card Assisted Games: To Card or Not to Card
Action Report: TLS Wagram by Mike Willner
TLNB Advanced Rules by Jason Roach
TLNB Updates, Questions & Answers
Nr. 3:

Turning that N on its Side by Kevin Zucker
A Battlefield of Your Own Choosing by Aaron Tobul and Christopher Moeller
The "1R" Result
TLNB Rules of Play Update by Dick Vohlers
A Fine Balance
Bagages Ho! by Chris Moeller, Todd Davis, Joe Perez, Aaron Tobul and Kevin Zucker
Vedette Encounters by Kevin Zucker
The Operational Art by Kevin Zucker and the staff of OSG
The Thin Red Line by Kevin Zucker
Nr. 4:

The Player Always Knows by Kevin Zucker
The Army of Bohemia at Leipzig by David Jones
Japanese Naval Air Forces by Kevin Zucker
Zucker at Leipzig by Kevin Zucker
Marmont at Mockern by Kevin Zucker
Armistice Talks on 17 Oct. 1813
Letters from the Vault, 2008
Order of Battle Notes by Derek Lang
Recovery and Reorganization by Kevin Zucker
The Kremlin of Mozhaysk by Paolo Scannapieco
FML Baron Schustekh in 1809
TLNB Random Events
TRC—4 Days of 1809
Reorganization Display
TLNB Updates by Dick Vohlers
Nr. 5:

What is "Tactics"? by Kevin Zucker
Amateur Talk About Tactics by Kevin Zucker
The New Ways of War by Richard K. Riehn
The Closed Watch Case by Kevin Zucker
Survey Results
TLNB Update
The Uncertainty Principle by Tim Carne
The Influence of Tactics by Derek Lang
History in TLNB, Part I - The Battle of La Rothière by Cezary Domalski
Challenges in Wargame Design by John Theissen
Nr. 6. 32 pages
CONTENTS: WATERLOO 200
Editorial
Historiography of Waterloo, Andrew Hobley
Corsican Ogres, John Kisner
NLB Lost & Found, Nicola Contardi
NLB's Design Revolution, John Prados
TLNB Updates
NLG Developer's Notes, Derek Lang
House Rules, Barrie Pollock
The Route to Waterloo Luca Franceschetti
NLG Historical Notes, Kevin Zucker
Historic Smolensk AAR, Kevin Zucker
Nr. 7. 20 pages
CONTENTS: JOHN MICHAEL YOUNG
Editorial
A Great Designer Remembered, Kevin Zucker
The Most Ambitious Design Ever, Paul Saarvas
John Young and PRESTAGS, David Bowman
Follow Up, Kevin Zucker, Andreas E. Gebhardt
Wavre - Critical Sideshow, Kevin Zucker
TLNB Update
Nr. 8. 36 pages
NAPOLEON'S RED-COATED ADVERSARIES
Editorial
2e Regiment de Chasseurs, Kevin Zucker
Deploy Before You Fight, Chris Moeller
The 7th Lancers, Kevin Zucker
The 1815 Order of Appearance, Tim Carne
Work in Progress: Fleurus 1794, Derek Lang
Rules Seminar: Rules to Kill
RULES UPDATES: All 6 TLNB titles and TLNB 6.8
Work in Progress: Napoleon's Quagmire
Thoughts on the Grand Campaign
Design Files: What is Basis?
Study: Phases in Napoleonic Operations
Design Files: Roadblocks
Research Notes: The Spanish Army of 1809
Nr. 9. 24 pages
THE MOST INFLUENTIAL GRAPHIC DESIGNER IN WARGAMING
Editorial
We Never Knew His Middle Name, Kevin Zucker
Mentor, Eric Lee Smith
The Simonsen Way, Redmond Simonsen
The Forces at Hal, Tim Carne
Napoleon's Maxims: Terrain
Design Files: March Rates in TLNB
Design Files: Roadblocks
FM 5-102: Expedient Obstacles
Scenario: Neverovsky at Krasnyi
NLG Grand Campaign, Guy De Frances
OrBat Notes: Spain, David Jones, Derek Lang
Nr. 10. 36 pages
Getting the Most from Artillery, Guy de Frances
Design Files: Victory Conditions
Interview: The Fourth Phase, Chris Basile
Milhaud's Cavalry Division in 1809
June 17th and All That Jazz, Paul Comben
Variant: Leader Losses
The British Way of War, Andrew Hobley
Tactics Cards and their Effects
Design Files: Command
Update: Napoleon's Last Gamble
Alternate Rules: Rest & Refit/La Garde Recule
Nr. 11. 28 pages
Editorial, Napoleon's Military Maxims
Maxims, Thirty-seven Additional Maxims
Design Files, Principles of Design
Brainy Quotes, The Mind of Napoleon
Design Notes, The Three Arms in 1813
Design Notes, Ocaña Scenario Design
---
Main Content Index | Game Series Index | Game Magazines Index
[What Links Here]