Article
Edit
|
History
|
Editors
Wiki Editor
An image of BGG's Wiki editor itself and its controls are shown below. Input to the Wiki editor is a very basic. You must type (or cut and paste) everything into the editor. There is no direct support to help you create markup for the rendering engine. There is indirect support in that the Preview button will show a reasonable facsimile of how the page will actually display.
For the appropriate markup tagging see the wiki page Wiki Formatting.
NOTE: Other windows allow you many options to manipulate wiki pages. You can:

Look at the versions for a wiki page
Fork from previous a previous version of a wiki page
Compare differences between different versions of the wiki page
Restore a previous version of a wiki page.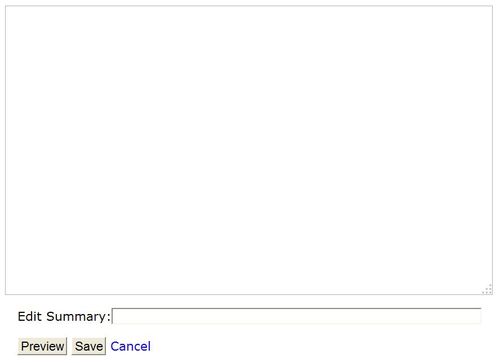 | Control | Function |
| --- | --- |
| Text Pane | A basic display of the markup in text format. There is no graphical support within this pane at all. |
| Edit Summary | A basic description which you use to describe your changes. |
| Preview Button | Activates the rendering engine to display a facsimile of how the page will actually display above the text pane but in the same window. |
| Save Button | Saves the editing. The changes are recorded with your userid and a time stamp. |
| Cancel "Button" | Despite the different appearance different from the Preview and Save buttons, Cancel is an equivalent level function. It cancels the editing destroying whatever you have typed. There is no warning dialogue. Press Cancel and everything is gone. |
---
[What Links Here]