Article
Edit
|
History
|
Editors
blogs
Summary
Now you can create and maintain a blog on the Geek! Blogs may have multiple contributors with different levels of access. Blog posts may saved as draft, scheduled for publication at a later time, and submitted for review to editors. Your blog may be divided into categories, and posts may be linked to one or more item on the site. Posts that are linked to items will also appear in the Blogs module on the item pages. Bloggers have a great deal of control over what happens on their blogs, including having the ability to delete individual comments and to block comments altogether. Blogs RSS feeds are available, as are subscriptions through the site subscription system.
Creating a blog
To create a blog, click "Blogs" under the My Geek menu when you are logged in. Then click Create. For now, you only need to give your blog a title and an optional description, which will appear under the title on the blog pages.
The Blog page
The main blog page looks like this: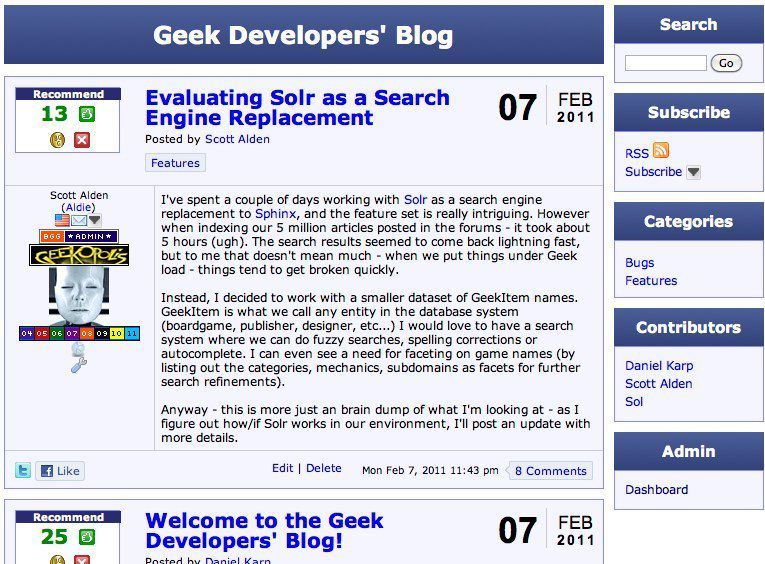 At the top is a title (and description, if there is one). Under that are the most recent blog posts. If there is a break in the post (see below), only the part before the break shows on the main blog page. On the right, starting from the top, are:

A search box, for searching this blog
The subscription links
A list of blog categories
A list of blog contributors
A link to the dashboard (if you are looking at a blog where you have access of some sort)
The Categories and contributor links present versions of the blog filtered on that category or contributor.
Dashboard
The Dashboard is where you go to do anything related to changing the content of the blog: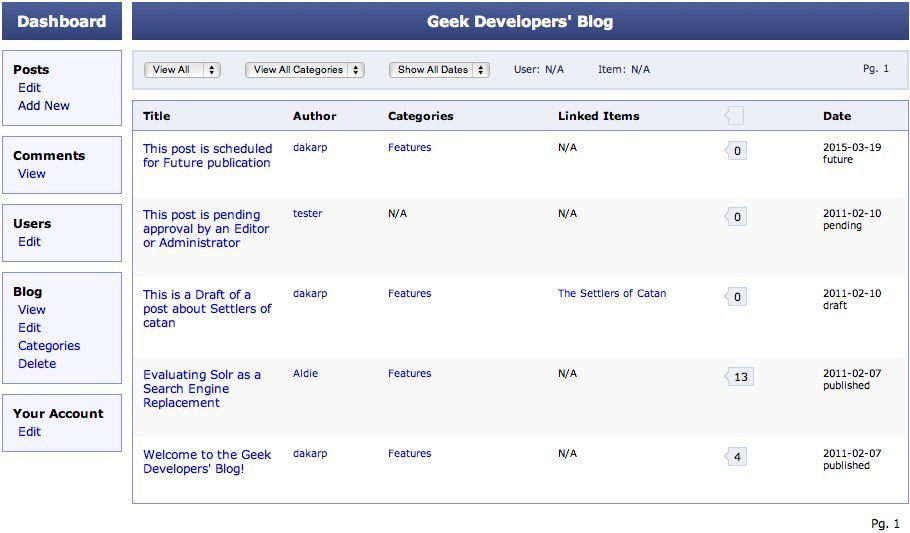 The view that comes up when you click on Dashboard is "Posts: Edit." In the central area, you will see a list of all posts for the blog in all states of publication. Those that you have access to edit will be linked, so that you can click through and edit them. Clicking on an author, a category, or a linked item will filter the list on that component.
Creating and editing a post
Going down the list of Dashboard commands, add new (and edit) will take you to a screen to edit or create a blog post. The edit screen looks very similar to the article creation screen for forums, with a couple of important differences. If you have created any categories (see below), at the top of the post, you will see a list of categories that you can select for the post. You may select more than one category by holding down ctrl/command.
You can break your post into an introduction and a following longer part by typing [BREAK] in your blog post. This will cause a break when someone looks at your blog: they will see the posts with only their introductions, followed by a "Read More" link, which takes the user to the full post. Similarly, anyone who receives the post in an RSS subscription will get only the introduction in their feed, with a "Read More" link.
In addition to linking database items in the text with "Insert Geek Link" as usual, bloggers also have the option of adding links by clicking "Add Link" under "Items discussed in this post". These will appear all together at the bottom of the post in a list of easy to find boxes, will cause the blog post appear in the "Blogs" module on the item page, and will send subscription notifications to users subscribed to blog posts for that game. If you wish to link an item both at the bottom of the post AND in the text, clicking Add Link followed by "Save and Insert" will insert the link in both places.
Choosing the relevant domains for your post will determine where the post is shown across the 'Geek family of sites.
If you uncheck the Allow Comments box, no one will be able to comment on your post. If you allow comments, as the blog administrator or post author, you will be able to moderate by deleting comments. If you allow comments and then later uncheck Allow Comments after comments have been posted, all previously added comments will disappear from the blog post and no new comments will be allowed as long as the Allow Comments box is unchecked. Previously posted comments will return if the box is again checked to Allow Comments.
Choosing "Subscribe to this post" will sign you up for subscription notifications when comments posted; you can set your subscription preferences so that this box will be checked by default, if you'd like. You can also just subscribe to the whole blog, and change the settings for that blog subscription to include comments.
Saving a post
There are several options to consider when saving a post, depending on your level of blog access. If you are the Administrator, an Editor, or an Author, you can choose to save a draft for later work, to publish the post immediately, or, by setting a future date and time, to delay the post for future automatic publication. It is strongly recommended that you finalize the post before publishing--although it is possible to edit published posts, you may be doing so after RSS subscriptions and Geek subscription notifications have gone out.
If a post is saved by a contributor, who does not have permission to publish, an Editor or Administrator of the blog must "edit" that post, then publish it in order for it to be published.
Comments
The comments page lets you see a very simple list of all recent comments on the site.
Users
If you are the Administator, you can add or edit users for your blog here. The following access levels are available for users:

| role | permissions |
| --- | --- |
| Administrator | All powers |
| Editor | Can write, edit, and publish any posts, and delete any comments |
| Author | Can write, edit, and publish own posts, and delete comments from own posts |
| Contributor | Can write own posts, edit them prior to publication, and delete comments from own posts. Posts must be published by an editor or administrator. |
| Guest | Like contributor, but does not appear in the list of blog contributors. |
| None | No longer affiliated with this blog. Existing posts by this user will be unaffected. |
Note that if you give someone else Administrator powers, they will have as much power in the blog as you, including the power to delete the blog or remove you as Administrator!
In addition to assigning access, you can change the "Byline" of a blogger here, changing the name that appears as a credit on the Blogger's post.
Changes to the Blog itself
If you are the blog administrator, you can make changes to the blog itself.
Under the blog heading, the "edit" link allows you to change the name or description of the blog. The "Categories" link lets you add or rename categories. "Delete" will allow you to delete the entire blog.
Edit your Account
Here you can change your own Blogger byline (whether or not you are the blog Administrator).
Displaying your blog on your facebook page
Facebook has stated that this is no longer possible.
You can use the RSS feed of your blog to make your posts appear on your facebook page as notes. Facebook makes this pretty tricky, though--here is how to do it.
Log in to facebook. On the main page, on the left, you should see a link to "Notes" on the list of applications (you may have to click "More").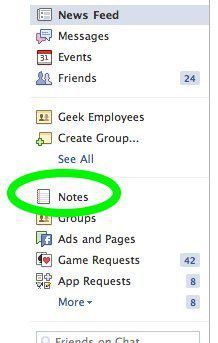 Click on that. Then you will see: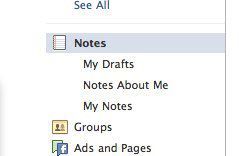 Now comes the tricky part (seems like a facebook bug to me). Click write a note at the top of the screen. You will see a new menu on the left: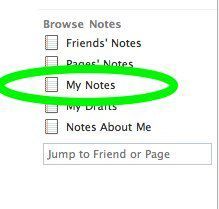 Click My Notes in the NEW menu (clicking it in the previous menu will not work. You will then see yet another new menu: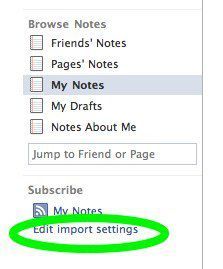 From there, click Edit import settings. Enter the URL for your blog's rss feed, found here: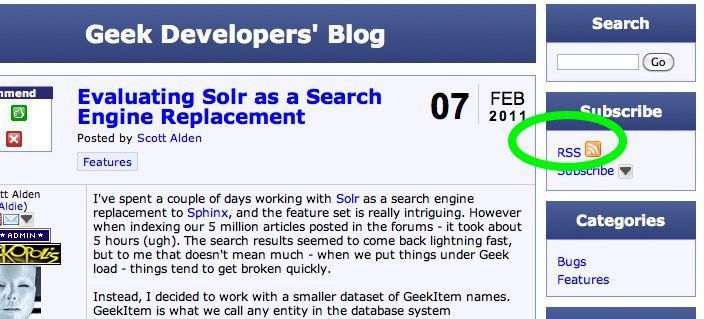 And that's it! Facebook does not use all of our formatting in the notes--don't blame us, blame facebook. :)
[What Links Here]